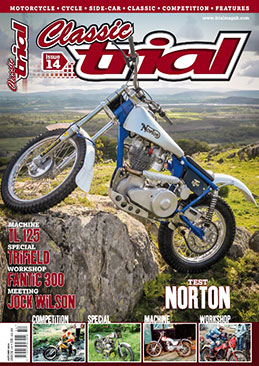 The latest airfreight delivered copy of Classic Trial Magazine, hot of the presses......Classic Trials News, Action, Events, Tests and so much more.
Inside and full of action you will find:
Test: Norton 500
Engine: Hiro
Workshop: Fantic 300
Meeting: Jock Wilson
Product Focus: REH – Armac                                                                                                                                   Machine: Honda TL 125                                          
Special: Trifield
International: Soultz – France 
Visit: Steve Martin  
Sport: National's
Classic Competition: 1980 Northern Experts                                                                                                                                                                                    
Plus all the regular features – Remember it's only Trials!!
Available directly from The Hell Team Trials Store.
$16.50 Posted Australia wide. LINK