Trevor Diener and Philip Holmes are South Australia's most successful Champions in the discipline of Trial, and also rank =2
nd
 all-time in Australian Sidecar Championship wins – as a team!
With no World Championship for sidecars in trial – it was generally accepted that during their time as a team, they were among, if not, the best team riding sidecar trials in the world.
Also during their career they were undefeated in the South Australian Championship and the Peter Sparkes Sidecar Trophy, and were only headed in their whole career together a total of 9 times, and in each event they placed 2nd!
It is because of this amazing career as a team, which only spanned some 11 ½ years, that it is felt that if they are to be inducted into the Motorcycling SA Hall Of Fame, it should be done, also, as a team, so therefore this is a double induction, for both Trevor & Philip.
TREVOR & PHIL, THE TEAM; Teaming up in 1978, Trevor & Phil started to re-write the record books virtually straight away, winning all 3 major titles, the SA Championships, the Peter Sparkes Sidecar Trophy and their first Australian Championship, on home soil at Eden Valley, with Roger & Chris Holmes finishing 2nd.
All up, Trevor & Phil won all 3 major titles in the same year a total of 7 times together!
In the South Australian Championship, Trevor & Phil were undefeated, winning 11 straight Championships from 1978 through to 1988 inclusive.
In the Peter Sparkes Sidecar Trophy, the most prestigious trophy for trials sidecars after the Australian championship, their record is the same – 11 starts for 11 wins between 1978 & 1988!
In the Australian Championship, their record, has only been beaten by one team, and equaled by another, meaning they still sit =2nd all time, and is 7 wins from 10 starts, with 3 runner-up placings (there was no sidecar Championship run in 1985), meaning they never finished worse than 2nd which is in itself a record in Australian trials history, for anyone with 5 or more starts at an Australian Championship.
Their 6 wins in a row from 1981 – 1987 (as stated, no championship in '85) still stands as the best performance by a South Australian team, and 2nd overall all time!
Their 70% win ratio (7 from 10) ranks them at number 2 all time as well, behind the 75% win ration of the Gough/Blanchard team (15 from 20) and well in front of the Kuerschner/Sparkes team who won 7 times from 17 starts for a 41% ratio, for all teams with 5 or more wins at National level.
In a little over 11 years as a team, they were only defeated 9 times, and each time, they finished 2nd!
And add to their list of accomplishments, the following;
In 1987 the Australian Observed Trials Championships were held in Western Australia, and were a 1 day Championship for all classes, meaning Trevor was able to unbolt the sidecar and win the Greybeards Championship and the Sidecar Championship, and in doing so became the only person to win 2 Championships in 1 year (A record that still stands – and will likely stand for all time)
In 1976, before teaming up with Trevor, Philip won the Australian Championship with brother, Roger, making both Trevor & Philip 8 time Australian Champions in total.
Both played a major part in the first 2 Australian Championship meetings ran by the Keyneton MCC in 1990 and 1994, both in the planning and on the ground, and they have always made themselves available at the other Australian Championships held in SA, 1998 (Committee run), 2002, 2007, 2011 & 2017 (all KMCC run)
In 2009 both were awarded Life Membership to Motorcycling SA for their contributions to motorcycle sport, both as competitors and valued members of the Keyneton MCC, and they were also awarded these as a team!
In 2009 the Club also re-vamped their 2 Day Trial, and launched The Diener/Holmes Sidecar Trophy for the first time, to celebrate and remember each year the careers of the Club's 2 greatest Champions. This was significant as it was the event that was Trevor & Phil's last ride together in 1988 – they won, just like their first ride together, but on this occasion they beat the team from Western Australia who had just beaten them for the Australian Championship.
7 years on and the Diener/Holmes Sidecar trophy is regarded by most as a great addition to the calendar and it now means there are 4 great trophies to win in Australia for sidecars, which in itself is a great thing, especially when Trevor & Phil themselves are on hand to present the awards.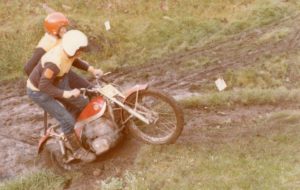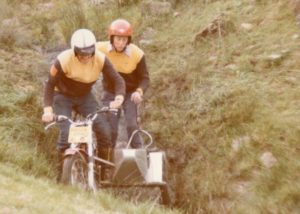 TREVOR; Born in 1947, Trevor joined the Keyneton MCC in the dark days of the mid 1960's when the Club was struggling to just survive, with Trevor playing his part in, first, the Club's revival, and then the prosperity of the 1970's onwards, and only stopped being a central figure in the Club well into the 1990's! Through the years Trevor has sat on the Executive Committee for a number of terms, usually in lower profile roles, as it was as a hard working Club member that he earned his Life Membership, which was awarded in 1982, the 7th to be awarded by the Club.
On a bike through the 1960's and into the first half of the 1970's Trevor was no slouch , winning the 24 Hour Trial for the first time as a 17 or 18 year old (dependant on when the event was run) in 1965, and then backing that up 2 years later to win for a second time in 1967. He then turned to 3 wheels in the 1970's to record another win in 1973, with Barry Arthur as passenger, making him a 3 time winner and a winner on both solo and sidecar, something that has been rare since the MCC of SA stopped running the event in 1956.
In observed trials Trevor had become one of the few Keyneton members to reach A Grade status as a solo rider, winning multiple South Australian Championships along the way.
PHILIP; Born in 1953, Phil first joined the Keyneton MCC in the early 1970's, along with brothers, Roger, Chris & Mark and sister Barbara, and all bar Mark would go on to have great careers in motorcycling, although Mark was the only one to ride a motorcycle professionally, being a postman! Phil would also spend a good number of years on the Executive Committee, including years as President and Assistant Secretary, but like Trevor, it was his expertise as a plumber and his hard working nature that really benefited the Club, which saw him awarded the 9th Life Membership to the Club in 1983.
During his early years in the Club, Phil, along with his brother, Roger, formed one of the first great sidecar teams in the Club, with Phil riding in reliability trials and Roger riding in observed, or Trial.  The duo had some success in reliability trials, including podium finishes in the 24 Hour Trial, but it was in 1976, at Mount Kembla in New South Wales that they became a huge part of Keyneton MCC history, when they won the Australian Observed Trials Sidecar Championship. This was the first time that any Keyneton MCC members had won an Australian Championship, after podium finishes in the past by Ken & Jim Warnest (road racing) and Geoff Barratt & Laurie Williams (observed trials sidecar)
1977 saw them head to Elaine in Victoria to defend their Championship, but had to settle for 2nd, which also saw the brothers part company as Philip was to take up an offer to passenger for Trevor, while Roger decided to put younger brother, Chris on the sidecar for 1978!
During their time together, Roger and Philip also won 3 straight South Australian Observed Trials Championships and were victorious in winning the first 3 Peter Sparkes Sidecar Trophies to be held, from 1975-77, making their 3 year record together very complete indeed!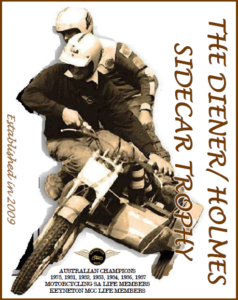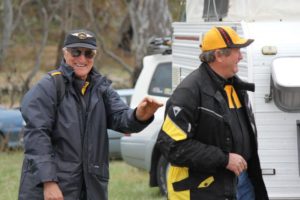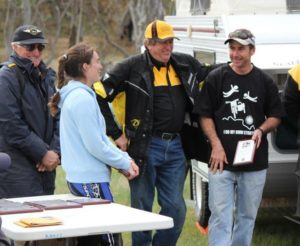 The Keyneton Motorcycle Club is very proud to have Trevor & Philip as members, due to both, their career achievements, and what they have done for our Club over many years, they have been, and are great ambassadors for the Club and SA, and great role models as well, and are still willing to help out whenever time and circumstance allow.