Usually announced at the Milan EICMA Motorcycle show each year, the new 2021 TRS ONE RR had a slightly quieter reveal this year due to the world's biggest Motorcycle Show being cancelled, but reactions were nevertheless outstanding.
The company has firmly planted itself at the forefront of Trial with it's flagship model, and as other brands stagnate, and little changes except for "bold new graphics" TRS forge ahead with constannt developement and improvements, showing everyone what can be done with passion and commitment to the sport.
---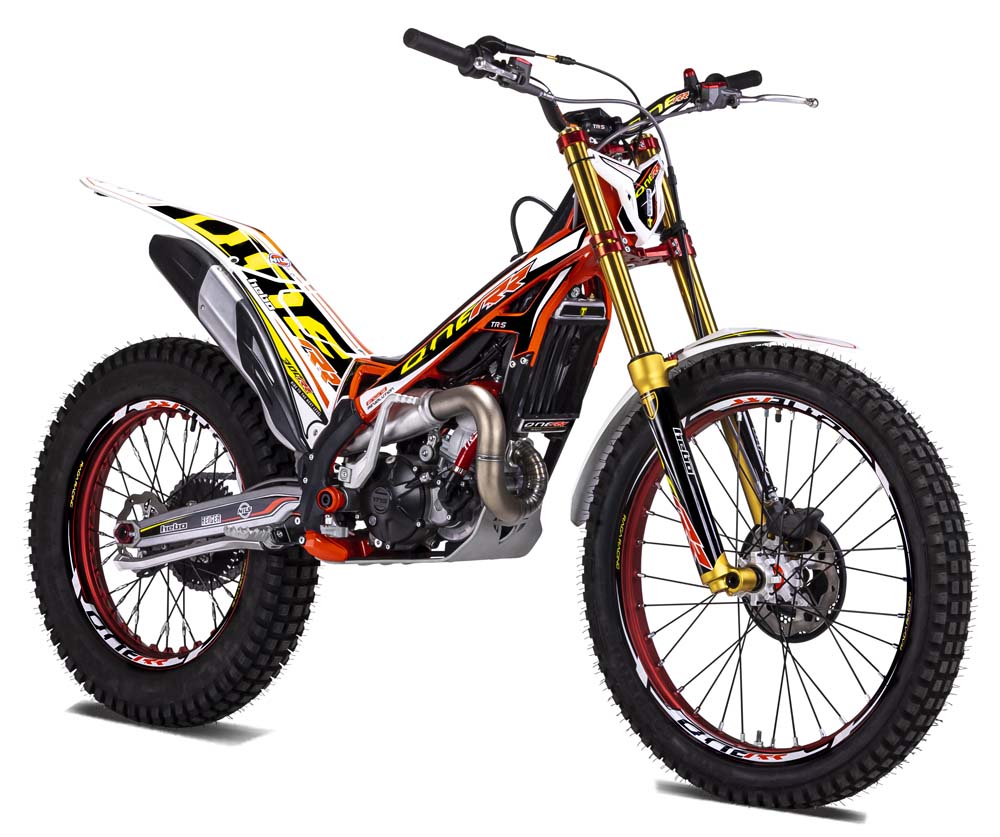 Now in its fifth model year, the new TRRS ONE RR 2021 reaches an optimal moment in terms of maturity, reliability and enjoyment, and it takes another step forward in terms of quality and performance.
Its innovative design with asymmetric shapes, maintains the DNA of the brand, present on the GOLD and One R 2021 models that have preceded it.
The engine has been completely redesigned, in order to fit the new aluminum injection-cast crankcases which substantially improve the finish and achieves better performance behavior at low-speeds by increasing pre-compression.
The new clutch cover with a sight glass for oil level and an oil fill port, all on the same side, facilitates ease of maintenance.
The incorporation of a temperature sensor makes it possible to control even better, thermal variations and, optimizes the start-point of the fan motor which is now controlled by the new CDI.
The ONE RR establishes itself as a benchmark motorcycle, both for the user and for the highest level riders.
Regarding the ONE RR 125's engine: 
It is significantly improved, with a new crankshaft, piston and cylinder head which provide a considerable increase in power, as well as reduced vibration.
Also on the 125, the final drive ratio has also been reduced and is now 8/45, offering a better throttle response and achieves optimum use of the first three gears.

The new ONE RR, like the brand's other models, will be available in two versions:
Normal (kick start only): 300-250-125 cc. (280 special order).
With Kick and Electric Start: 300-250. (280 special order)
Available to pre order now. Bikes being built from December 2020. First shipment late Feb 2021 in Australia.
CONTACT: The Hell Team, or your TRS State Dealer for more information
NSW and SA: The Hell Team
QLD: Revolution Trials (Justin Gough)
VIC: Greg Chalmers (TRS Vic)
VIC and TAS: PTR Engineering (Phil Whittle)
WA: Moto Dynamics