The 45th Keyneton MCC Mountain Man Trial
THE 10TH SOUTH AUSTRALIAN WOMEN'S CUP
and DIENER / HOLMES SIDECAR TROPHY 
ENTRIES ARE NOW OPEN!
The Keyneton Motorcycle Club are proud to announce that entries for their 2018 Mountain Man Trial are now open, which for the 10th year will be run as The South Australian Women's Cup and The Diener / Holmes Sidecar Trophy, and will be held at the top of Rifle Range Road, near Tanunda, in the Barossa Valley on Sunday, June 17th.
Once again being sponsored by Greg Knight's Rockhopping SA, and with great support from Paul Arnott's The Hell Team and Peter Goddard's Oset Bikes Downunder, this one day event will likely feature a trial of 12 sections by 4 laps on 2 of the properties that hosted the Scottish 2-Day in 2015 – with the venue also a neighbouring property to where the Vine Inn Barossa 2017 Australian Trial Championships were held!
Camping from Friday night is available, with the Barossa Valley town of Tanunda being about a 10-15 minute drive from the trial site, which has a great caravan park and a number of motel options, as well as plenty of food outlets. For all your need to knows, head to www.barossa.com
In the SA Women's Cup, all classes and capabilities are once again being catered for at this 2016 FIM Women in Motorcycling Award nominated event, from Expert Women down to Mini Trial, and it is hoped that not only the current Australian Champion in Kristie McKinnon will be riding, but that Jenna Lupo and Michelle Coleman will also make the trip, meaning the whole 2018 Australian Women's Trials des Nation team will be present – watch this space! 
Running alongside the SA Women's Cup is the Diener/Holmes Sidecar Trophy, held to honour the amazing career of 7 time Australian Sidecar Champions, and Keyneton MCC Life Members, Trevor Diener & Philip Holmes, with 3 classes available for sidecars – A Grade, B Grade & Classic – check out the supp regs for all the details on what constitutes a 'Classic'!
There is also a full range of support classes available for the 'solo blokes', from Expert down to Junior & Mini Trial – again, a full list can be found on the supp regs!
The Supp Regs and Online Entries are now available through www.trialsport.com.au/entries and we thank Peter Arnold from Trialsport for making this excellent programme available.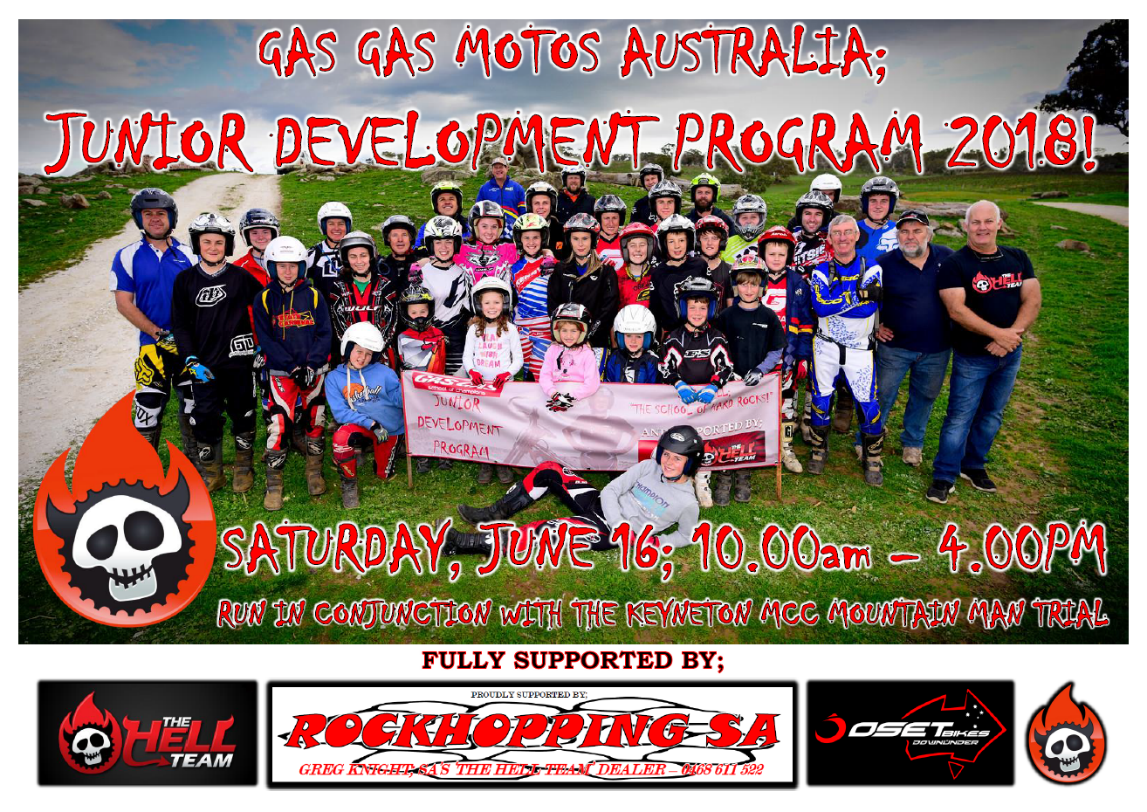 Being run in conjunction with the Keyneton MCC Mountain Man Trial will, on Saturday, be the 2018 Gas GasMotos Australia Junior Development Program Coaching Day, starring a number of special guest coaches, and it is with great pleasure that Trials South Oz welcome back to SA the current Open Solo and Open Women Australian Champions, Kyle Middleton and Kristie McKinnon, who will also be joined by The Hell Team's Paul Arnott.
Trials South Oz is excited to present this day, which will run from 10.00am until about 4.00pm, and will be run on the same property that the trial will be held on the next day. Riders of all ages and experience will get to spend some time with Kyle & Kristie during the day, and, they will also ride the event on Sunday – so you will get to ride with the Champs!
Entry on the day is free – but attendee numbers are needed to ensure there are enough coaches for all, and that the BBQ lunch will be catered for everyone – so an email to [email protected] if you are attending would be greatly received!