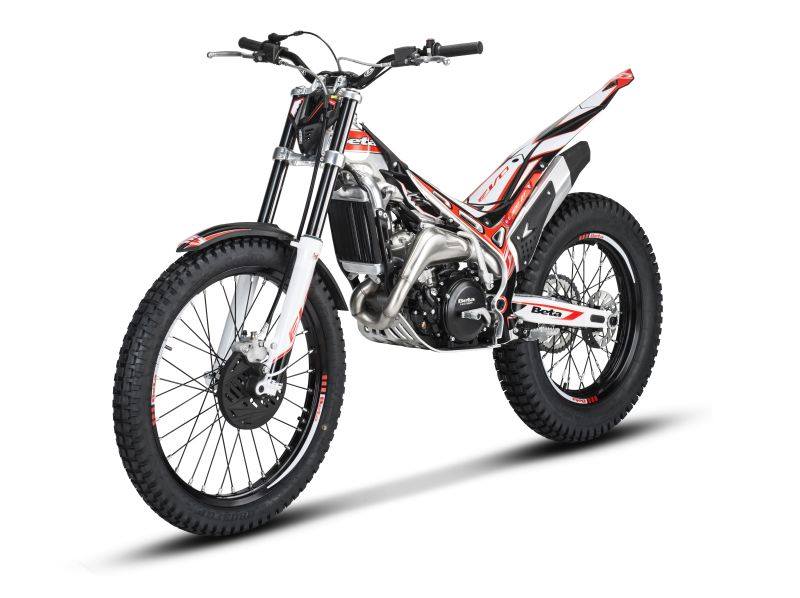 Beta EVO MY2018 – ever increasing technical refinement.
After introducing new engines last year which were Euro 4 compliant, Beta has concentrated on refining an already magnificent machine making it even better. 
Beta engineers have been hard at work on refining last year's models working on the fine details.  The My2018 EVO provides outstanding levels of technical refinement, performance and reliability.  Two stroke engines of 125, 200, 250 and 300cc are offered, while the four stroke is 300cc.  The 300 comes in two versions – standard and Super Smooth. 
EVO 2T
New low friction main engine bearings that reduce energy loss thus improving low rev performance.
Both front and rear suspension has been recalibrated to give greater progression and dampening major impacts with greater efficiency.
Wheel hubs have been reinforced in the disc and sprocket attachment areas to boost impact resistance and reliability.
Dunlop tyres are fitted.
New colours and graphics with white and red decals.
EVO 4T
New twin spark control unit which improves combustion boosting performance and throttle response.
New spark plug with the electrode protruding further into the combustion chamber providing more immediate precise ignition ensuring cleaner carburation.
A larger oil pump which reduces pressure in the crankcase thus reducing the engine braking characteristics considerably.  The on off effect at low revs is eliminated.
Internal exhaust has been revised sharpening engine performance and improving engine power across the whole rev range.
EVO 2T 300 Super Smooth
This engine differs from the standard 300 in many ways.
Extra weight on the crankshaft at both ends.
Different cylinder porting.
Different combustion chamber shape.
Lower compression ratio head insert.
Different advance curve on the CDI.
Slow action throttle.
This turns the 300cc two stroke into a bike that is easier to ride and control for the average or clubperson rider.
Beta Racing expects to receive a shipment of these fabulous machines in November.  Prices will be announced very soon.  Orders can be made now.