ALSO: We have had to have a small venue change - still Keynes' Gap on Rhine Park Road at Eden Valley, but now turning right into the venue, not left - SO - now it will be on the site to probably be used for the 2023 Australian Trial Championships - so the same ridge and type of rock and sandy-ish soil. (although we won't use the area to be used for the Aussies, will be the likely practise area)
Enter on Ridernet: https://osm-ma.omnisportsmanagement.com/EventManager/(S(1ysbsbhznwvm3ufn0d0w5bbw))/EM_RegEventInformation.aspx?EventId=39%2bRiPMu1VUcU7%2fI3qDS0iJpWiUQ%2fQtT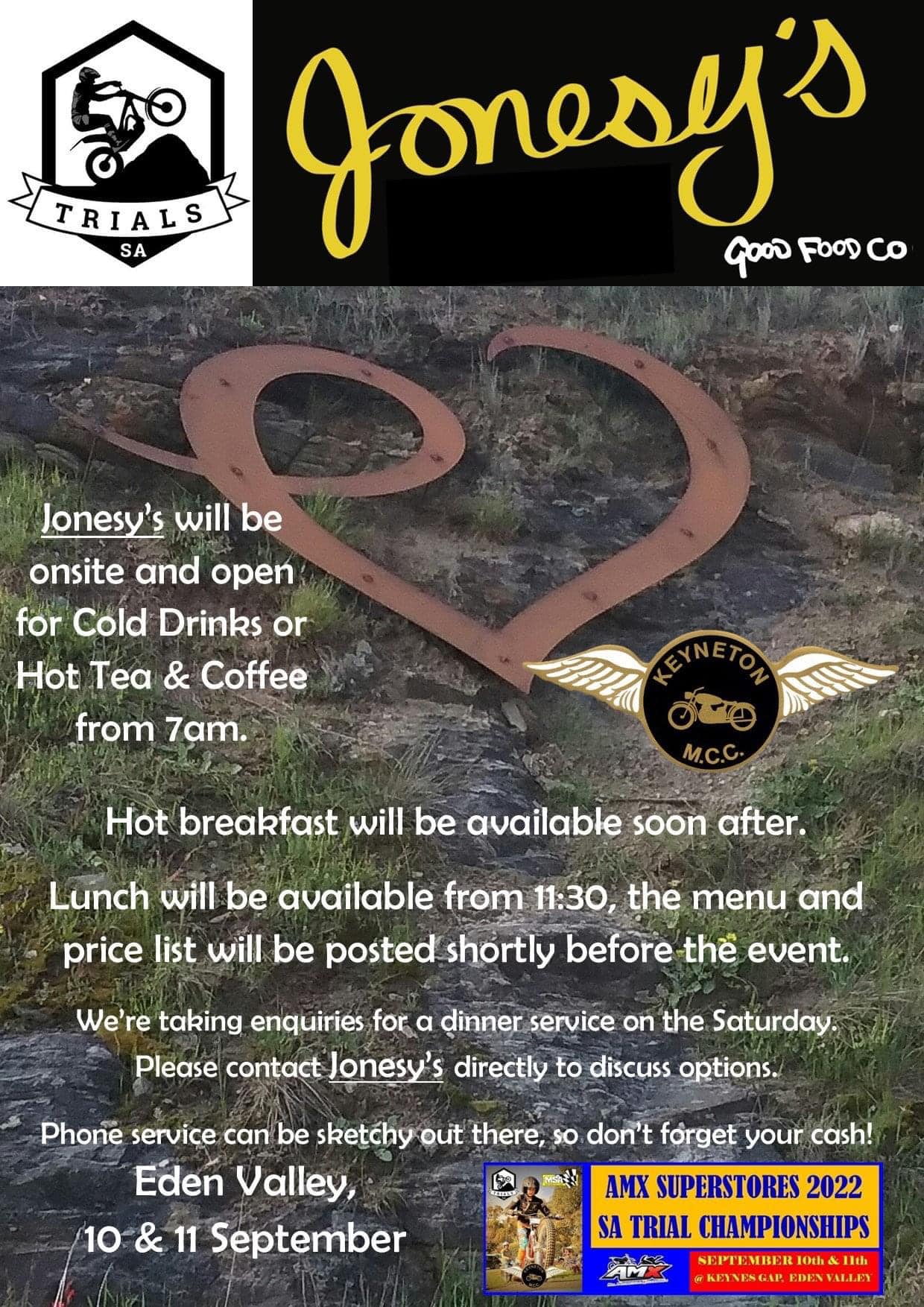 Entries are open for the AMX Superstores 2022 South Australian Trial Championships.
Held on the weekend of September 10/11, and hosted by the Keyneton MCC, the event will be held on their iconic properties on Rhine Park Road at Eden Valley*, in areas not used since the 1994 Australian Trial Championships were held at the venue! With Keyneton Motorcycle Club also recently announced as the host for the the 2023 Australian Trial Championships (more on that in the coming weeks…), this will be the ONLY chance to ride this kind of South Aussie rocks and terrain before next year's Championships.
*For those not sure which property at Eden Valley – turn onto Rhine Park Road next to the Eden Valley Caravan Park and travel about 5k out to Keynes' Gap – signs into the property will be on the left – this is across the road from the venue of the 2011 Australian Trial Championships, and the mid-week event during Trials Week SA 2017.
For the second year running,  naming sponsor AMX Superstores have donated prizes for this event, with five (5) $50.00 AMX Superstores vouchers – one each for the four Junior Class Champions, and one for the best placed junior rider in a senior class. Trials SA's thanks goes to Beckz and her team at AMX Enfield store for the continued support of Trial in our state – and get ready to check out their brand new store opening in August – it's gonna be huge!
The 2022 SA Championships will also continue to receive great support from Greg Knight and his team at Rockhopping SA, who will be onsite all weekend to assist and will have his mobile trials store stocked for all your needs! Huge thanks once again to Greg for his continued passion for Trial here in SA.
Entries are open on RIDERNET, with a full range of classes (competitive & non-competitive), 4 Junior Classes, plus Mini Trial, camping onsite and more. All details are included in the supp regs – which will be uploaded on the supp regs page of the Motorcycling SA website, and emailed to all registered participants.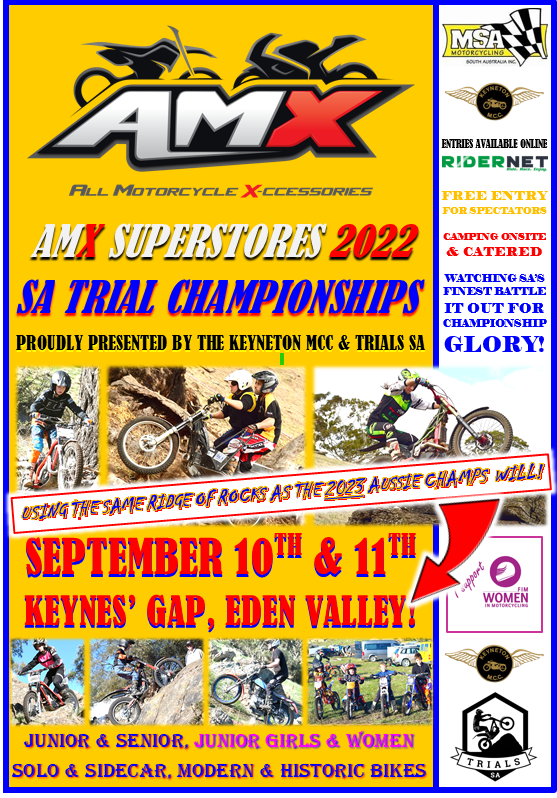 THE AMX SUPERSTORES 2022 SA TRIAL CHAMPIONSHIP CLASSES WILL BE:
SENIOR SOLO;
Trial 1, Green Line
Trial 2, Red Line
Trial 3, Yellow Line
Trial 4, Blue Line
Trial 5, White Line
Trial 6, Black Line
*Women, Nominate normal class (Trial 1-6). Harder lines are scored first in a tiered system
Veterans, Blue Line & 40+ years as of September 9
Historic Blue, Blue Line – for all aged bikes, Classics, Twin-Shock & Air-Cooled Mono
Historic White, White Line – for all aged bikes, Classics, Twin-Shock & Air-Cooled Mono
JUNIOR SOLO;
Junior A, White Line
Junior A Girls, White Line
Junior B, Black Line
Junior B Girls, Black Line
SIDECAR;
Sidecar 1, Red/White Line
Sidecar 2, Black/Yellow Line
Sidecar Classic, Black Line (or run of section – to be decided)
(A Classic Sidecar to have an air-cooled motor, drum brakes and no sidecar wheel brake)
NON COMPETITIVE;
Mini Trial, Run of Section
Non Comp Solo, Rider's choice of line
Non Comp Sidecar, Run of Section
* Open Women – Name plates as per line being ridden (for the ease of observing)
ALL Non-Comp riders to have an Orange Name Plate – for the observer's information
ENTRIES CLOSE; 11:00PM TUESDAY 6TH SEPTEMBER 2022, late entries accepted until 11.00pm Wednesday 7th September, with an additional $20.00 late fee.
 Dependent on entries and observers, the plan is to have a minimum total of 40+ sections to ride each day, with a minimum 6 hour ride time, meaning it will be similar to an Australian Championships,
EXTRAS;
Camping on site from Friday night.
Event will be catered – details to be announced closer to the event!