Airfreight copies of Trial magazine Issue 55 have just landed.
Trial Magazine is 116 full colour gloss pages with all your Trials Action, Events, Product Tests, Interviews and so much more!  #55  carries superb images and interesting in depth articles from a team dedicated and passionate about the sport of trials.
Available freight free from The Hell Team Trial Store. $15 Australia wide.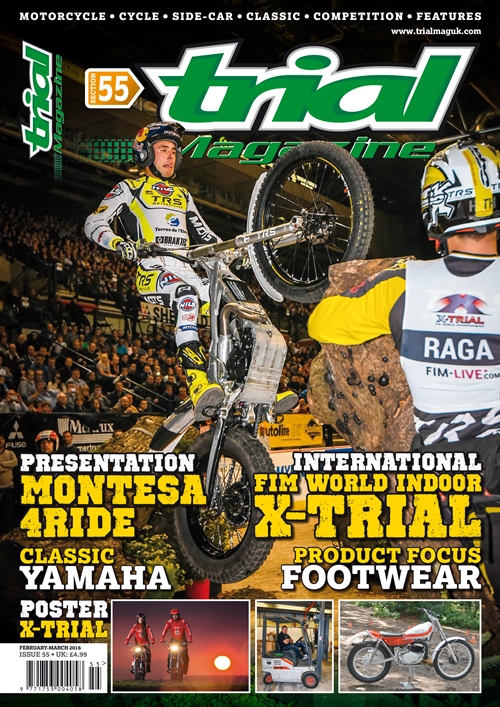 Inside and full of action you will find:
Industry Insider: We speak with John Shirt Jnr in a very honest interview about Gas Gas UK and the future.
Presentation: Read about the new Montesa 4Ride. A very exciting new machine.
Presentation: Cycle trials – we look at the new Onnit range for 2016.
Meeting: We dared to take a look inside the damaged knee of Michael Brown. Trial Magazine Editor John Hulme was with Michael at the scene of the accident. Read the full story only in TM!
Product Focus: Which new boot would you purchase, we take a look at what's on offer as the 'Scottish' approaches.
Celebration: What did it take for Quentin Carles Caudemberg from France on the Beta to win the World Cup Championship? We spent a year with him.
International: It's time to go indoors for the X-Trial at Sheffield round one of this year's series.
Technique: How to cross a deep river.
Legend: John Moffat tells the Don Morley story.
Classic: Its works Yamaha time with Ferry Brower.
Traditional: It's a fact that you do not have to spend much hard earned cash to have some fun on a trials motorcycle.
Youth: Ian Smith talks about the 24" Oset.
Dealer Visit: Find out who's in charge at Acklams Beta – We think Uncle Paul.
Cycle: Who knows about the history of Cycle trials – we do.
Enjoy the Regular Features: Talk Trials where we speak with the world champions Toni Bou and Emma Bristow and have some fun in the Paddock, Remember it's only Trials!!
Available freight free from The Hell Team Trial Store. $15 Australia wide.